Fulgar
Talk

0
130pages on
this wiki
Human Name - Unknown
Age - Unknown
Occupation - Cenobite in Hell's Army
Gashes - Merkova's Lucky Six
Fate - Desceased
Fulgar was a violent cenobite who had later been summoned to be a part of the Lucky Six
Fulgar was present at the General's Call to Arms to witness the solving of the Puzzle Chamber, which would summon six cenobites destined to face off against the Harrowers who were trying to free the goddess Morte Mamme. Fulgar was summoned to follow under the order of Pinhead's lover, Merkova, and beside fellow cenobites, Carnex (Haloblades), Turpis , Phrait, and Preyvus (Cowboy). 
The cenobites arrived at the Egg Museum shortly after Morte Mamme had been released, Merkova found Zinc, the cat of the Harrowers and threatened its life, suddenly Harrower Winston Gage appeared and cut off both of Merkova's arms, the other Harrowers appeared shortly there after and the battle began.
Morte Mamme created the creature Ovid to provide Lucinda and Lavinia with encouragement as they had strayed from the battle, he then gave them the gift of duplication.When Ovid started releasing his fumes, Fulgar and the other cenobites (save for Merkova) were confused and quickly bound in Lucinda and Lavinia's rope, they were held in place by Marty Seven Birds who generated a wave of electricity over the cenobites while the other Harrowers dismembered the cenobites. Fulgar's remains, alongside the remains of Turpis, Cattleskull, Haloblades and Cowboy, were returned to Hell.
Opaccus Farrage
Edit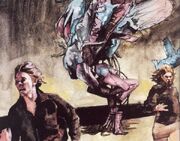 Leviathan was not pleased with the General's lack of proffesion, and with the remains of the fallen 5 cenobites, the General created the Opaccus Farrage though better known as the Furaie. The Harrowers thought they had won as five cenobites were dead, and though fellow Harrower, Bunny Benedict, was kidnapped by the mortally wounded Merkova, they could continue as planned. Then the General sent TheFuraie to earth to battle the Harrowers. The Furaie was too powerful for the Harrowers to defeat, so Harrower, Marty Sevenbirds sacrificed himself, plunging both the demon and himself into the deepest pit of Hell. Thus putting an end to Fulgar once and for all.
Description:
Edit
Fulgar has an array of hooks digging into her skull and she has a mask, similar to that of Hannibal lecter's, that had been screwed into her face. She wears a spiked collar and a revealling leather costume. She has spikes that jut out of her skin in each of her forearms.Her most distinguishing altercation would be her stomach which has a spiked circle embedded inside it which gives her a more boxy and masculine shape.
Appearences
Edit
The Harrowing part I: Ressurrection
The Harrowing part II: Inressurrection