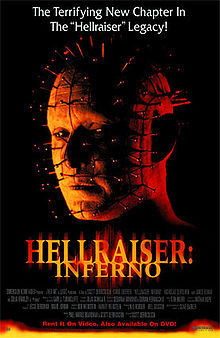 Hellraiser: Inferno

Directed By:

Scott Derrickson

Written By:

Paul Harris Boardman

Scott Derrickson

Based On:

Original Characters: Clive Barker

Studio:

N/A

Distributed By:

Dimension Home Video

Miramax Films

Release Date(s):

October 3, 2000

Country:

United States

Language:

English

Budget:

$2,000,000 (estimated)
Joseph Thorne is an intelligent yet corrupt Denver police detective who regularly indulges in drug use and infidelity during the course of duty. At the scene of what appears to be a ritual murder, Thorne discovers a strange puzzle box, which he takes home in order to indulge his fascination with puzzles. After solving the box, Thorne begins to experience bizarre hallucinations, such as being seduced by a pair of mutilated women and being chased by a creature with no eyes or legs. Thorne also makes a connection between the murder and a killer known as "The Engineer," who is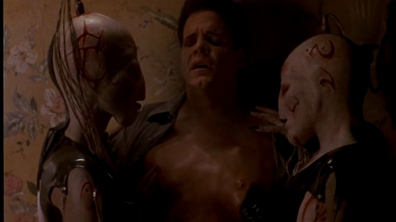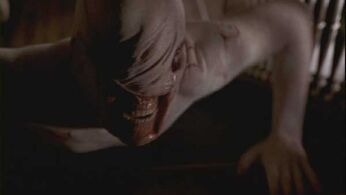 suspected of having kidnapped a child. Thorne goes in search of the Engineer, who in turn begins murdering Thorne's friends and associates, leaving behind one of the child's fingers at every crime scene.
While undergoing therapy for his hallucinations, Thorne's psychiatrist reveals himself to be "Pinhead," the leader of a group of entities known as the Cenobites, who use the puzzle box as a portal between their realm and the mortal realm. Pinhead informs Thorne that he has in fact been in the Cenobite's realm since opening the box, where they have been subjecting him to psychological torture for the various cruelties he inflicted on others: The Engineer is a manifestation of Thorne's own cruelty, while the child is a personification of Thorne's innocence, which he has slowly killed through corruption, hedonism, and violence. As hooked chains appear and begin to ensnare Thorne, Pinhead informs him that he will be subjected to an eternity of torment for his sins.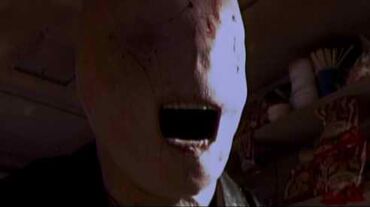 Cenobites 
Deleted Scenes
Edit
Ad blocker interference detected!
Wikia is a free-to-use site that makes money from advertising. We have a modified experience for viewers using ad blockers

Wikia is not accessible if you've made further modifications. Remove the custom ad blocker rule(s) and the page will load as expected.