Surgeon redirects here. You may be looking for Surgeon (Hell worker), a character first seen in Hellraiser: Judgment.
Surgeon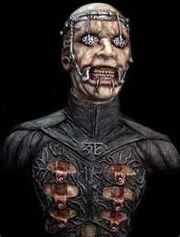 Past Name: Deacon Vrainian
Occupation
Surgical doctor (formerly)
Cenobite
Gashes
Prefered Weapon
Surgical tools (ie scalpal)
Fate: Unknown
The Surgeon Cenobite appeared in Hellraiser: Hellseeker and Hellraiser: Hellworld.
As a Human
Edit
The famous Deacon Vrainian, marveled for being a skilled surgeon with the most skilled hands in the world. All his successes increased his reputation, and he became quite famous, but one false move cost him everything: his career and later his sanity. He inadvertently killed his wife in the process of the surgery and wanted to find a way to shut out all the noise. The answer was a small wooden box etched in brass, As he opened it Pinhead appeared before him and offered him a way to forget; Deacon accepted in the blink of an eye. Early in the film Hellraiser: Hellseeker, Deacon appeared in Trevor's hallucination-nightmare, where he was operating on Trevor.[1]
As a Cenobite:
Edit
Surgeon was present and was one of many cenobite witnesses to Kirsty opening the box for a second time and entering Hell willingly a third time. There she made a deal with Pinhead to bring five souls in return for her own, now being more concerned for her own life rather than that of others as she fully learned the order of Hell. Pinhead agreed and Surgeon, Bound, Stitch, Chatterer III and him waited for Kirsty to open the box and deliver the first victim. The first victim was the one which Pinhead sent Bound and Surgeon to retrieve, during which they smothered one of Trevor's affairs women with seran wrap. Trevor later witnessed this first hand after his own death while forever trapped in Limbo, which he will endure for all eternity for his crimes against order. After this, Surgeon appears again in Hellraiser: Hellworld.
Appearences
Edit
Dale Wilson (as Deacon Vrainian)
Mike Jay Regan (as Surgeon)
Although his eyes are permanently shut, he still manages to get around leaving the question of how a blind man sees. He shares this trait with Little sister, Bound, CD, Bound II , Spike , Butterball, Chatterer, the Wire Twins and many other cenobites in both the film and comic series'.
The character first appeared as the original cover-art for the novella on which Hellraiser is based, The Hellbound Heart[citation needed]
References
Edit
Ad blocker interference detected!
Wikia is a free-to-use site that makes money from advertising. We have a modified experience for viewers using ad blockers

Wikia is not accessible if you've made further modifications. Remove the custom ad blocker rule(s) and the page will load as expected.