This page is about the character first appearing in Hellraiser: Judgment. For the Cenobite, see Surgeon (Cenobite).
"
After that, we wait to hear the verdict from The Jury. And if guilty, you will be taken to be cleaned and then to The Surgeon.
"
[1]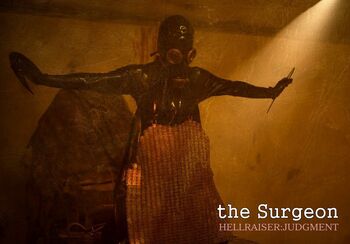 The Surgeon is a worker from Hell, and a member of The Auditor's department. Unlike Pinhead's Gash, the Auditor's department does not serve the Order of the Gash religion and therefore its members are not classified as Cenobites.[1]
The Surgeon will debut in Hellraiser: Judgment, where he will be seen vivisecting Karl Watkins with surgical precision on an operating table.[2]
Behind the scenes
Edit
The casting call for Hellraiser: Judgment called for a "Male, 30-60. The skinniest guy we can find. A full or partial lower limb amputee. Either a dancer or martial arts expert, or perhaps even a full or partial lower-limb amputee, giving him a real Road Warrior feel. He is lowered on a harness, Mission Impossible style."[2] The character was brought to life by a make-up effects team led by Mike Jay Regan and Mike Measimer.[1]
Appearances
Edit
References
Edit